The city of Valencia offers a maritime paradise that few cities in the world can offer. The beaches are mainly of fine golden sand that leads to a large influx of people, but because of the general width of about 150 yards from the promenade to the sea and several kilometers along the Mediterranean Sea, there is always enough space for everyone.

Without having to go out of town, you can enjoy both the beach of Patacona and the beach of Malvarrosa every day of the year, but you will enjoy it the most in summer, not only because of good weather, but also because of all the facilities: areas for children, sports facilities, beach bars that sell drinks and ice cream, etc.
Furthermore, the promenade offers a wide variety of restaurants and terraces where you can spend the day sheltered from the sun and enjoy a drink or the typical ´tinto de verano´ (a cold red wine drink).
Although the parking area becomes inaccessible as it approaches noon, busses and trams run every 10 minutes which gives you the possibility to reach the beach quickly and return home within a few minutes for an economic price.
For those who seek a quieter but equally impressive beach, head to the south to Playa de Pinedo, with the same characteristics as the city, but less overcrowded. Something closer to the Albufera Natural Park is the beach of El Saler, a sandy lake of 2,600 meters with a large expanse of pine trees. Despite being a little further, it is one of the most popular beaches because of its calm water tide and even more transparent water, and relaxing atmosphere.
North of Valencia you will find the beaches of La Patacona and Port Sa Playa, somewhat more savage than the others, usually with a more rebellious tide, yet less influx of people, and most peaceful areas to relax and unwind from the daily grind.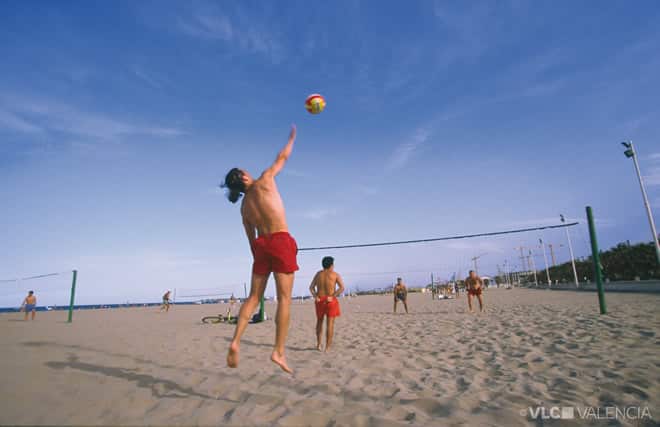 Photos from www.turisvalencia.es
Summer tips – Valencias beaches
Whichever beach you choose for the day, keep in mind that the sun in Valencia is relentless. It´s recommended not to be directly exposed to it for more than 2 to 3 hours a day and always use sunscreen according to skin tone.
If you go around lunchtime, keep in mind that legislation prohibits eating on the beach, as well as drinking alcohol and smoking. The police can apply a fine as a result of these actions. However, these prohibitions have not been of much influence to most of the people who come to spend the day with family and friends. It is up to you to meet standards or not, but in any case do not forget to always use the bins that are distributed along the coast, to keep to beaches clean.
Remember also that while the sun sets, the beach is one of the areas with the hottest nightlife in Valencia during the summer.