Looking for a place to stay during Festival Internacional de Benicàssim (FIB)?
At Home Hostels Valencia we have got two hostels located in the center of Valencia next to the North Station.

We offer you two low-priced hostels in the center of Valencia next to the North Station. Benicàssim Festival is one of the most popular music festivals in Spain. It's been celebrated for 15 years in Benicàssim (Castellon), in July. The festival is also known as FIB Heineken, this is because the famous beer brand is its main sponsor for years.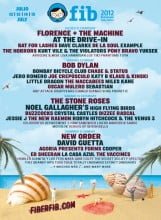 Bob Dylan heads the list of six new artists that join the FIB 2012, Benicàssim lineup. He's accompanied by Jessie J, Robyn Hitchcock and The Venus 3, Agoria, Totally Enormous Extinct Dinosaurs, and Arverne & Misk. All of them will join those already confirmed for the eighteenth edition of FIB, The Stone Roses, New Order, Florence + The Machine, At The Drive-In, David Guetta, Noel Gallagher´s High Flying Birds, De La Soul, Dizzee Rascal, The Horrors, The Maccabees, Bombay Bicycle Club, The Vaccines, etcetera. If you're planning to come to the FIB 2012, one of the better choices is to stay in a cheap hostel in Valencia. That will allow you to have more flexibility and visit the city of Valencia, during your stay.
Why choose our hostels for the FIB 2012?
Our hostels are cheap and well communicated with the North Station. There you can take the train to Benicàssim (which is going to increase its frequency during that week).
We offer you two very good hostels located in the City Centre of Valencia.
– Home Youth Hostel Valencia: Hostel for FIB rooms for 3 or 4 persons. The first hostel in Valencia without bunk beds is just in the Old center of the City.

– Home Backpackers Hostel: Hostel for FIB 6, 8, 12, and 16 bunk bed dorms. Big, cheap, clean, sunny, and colorful rooms.