Are you looking for cheap accommodation or Inn in Valencia?
Find out our Valencia inn accommodation: Home Hostels Valencia. In our hostels, you'll find the best prices for lodging in Valencia.  We offer you two of the best Inn lodging for  Valencia perfect for all kinds of travelers.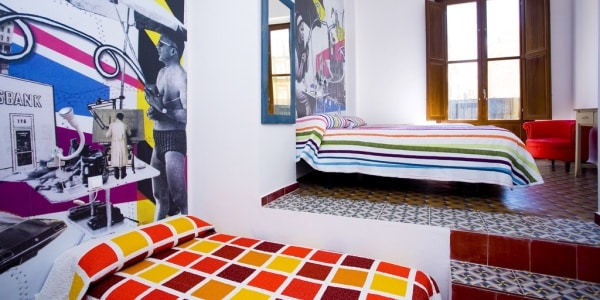 Inn  Home Youth Hostel Valencia: we offer you a cheap inn just in the center of Valencia city, next to Central Market and the Lonja ( proclaimed World's Heritage building), two of the most important touristic points.  Also, our hostel is placed 8 minutes walking from the North Station.
Inn Home Backpackers Hostel Valencia: you will stay in the centrical Carmen Neighbourhood just 15 minutes from the bus station and train North Station of Valencia, directly conected to Barcelona, Madrid, and main Spanish cities.
Valencia Inn
Our inns in Valencia were the first to appear in town, that's why we can offer you the best prices and a cheap acomodation with the best quality. You'll find high quality inn accommodation with 24h reception, Internet, and new experiences meeting people from all over the world. You'll feel at home because our Valencia inn acomodation offers you two spacious hostels, with a big terrace to enjoy sun baths and our good weather. If you are looking for some inn accomodation in Valencia come to Home Hostels Valencia, the chain of low price hostels in the historical center of Valencia.
For information regarding events and tourist information click our: Valencia Guide