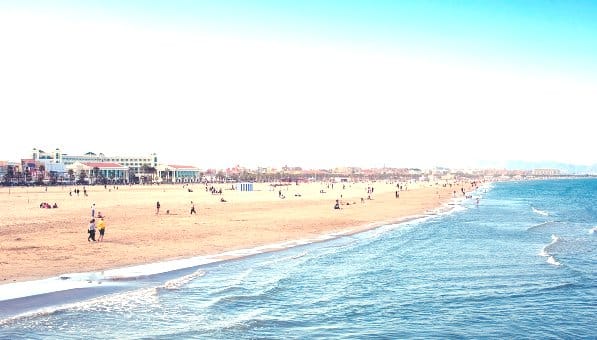 The beach is one of the great attractions of the city of Valencia. Located on the shores of the Mediterranean Sea, on what is known as the Costa Blanca, Valencia enjoys kilometers of beaches with fine golden sand and warm, serene waters. In summer, or when the heat hits, beaches such as Cabanyal or Malvarrosa are the true center of a city that recovers its coastal soul, with the anxiety and pleasure of a sailor who returns to the sea after months of confinement on land.
The urban beaches of the city of Valencia are ideal for any type of bather because they have all the basic services, in addition to having access for the disabled. The great width of its sandbanks (Malvarrosa beach, for example, stretches up to 80 meters wide) means that a large part of the beach is occupied by volleyball and five-a-side football pitches for playing sports with friends.
But possibly the greatest virtue of Valencia's beaches is its sun. Good weather accompanies the city of Valencia almost all year round, ensuring warm temperatures that invite you to go to the beach more than six months a year, practically from the beginning of spring to the end of autumn. For this reason, coming to Valencia to enjoy your holidays in both summer and winter is a safe bet.
Hostel near Valencia Beach
Valencia is a city that is built with its back to the sea, in such a way that its historic center is far from the urban beaches. However, in Valencia, there is an extensive public transport service that connects the center of the city, right where the low cost Home Hostels Valencia are located, and the beach area quickly, comfortably and cheaply.
For this reason, the Home Backpackers Hostel and the Home Youth Hostel are two cheap accommodations that, despite being located in the center of Valencia city, are perfectly connected to the beaches of Valencia. From the Home Youth Hostel, the best option to get to the beach area by public transport is to go to the Plaza del Ayuntamiento (5 minutes on foot) and take bus number 32, whose line reaches the promenade and the beach of the Malvarrosa. From the Home Backpackers Hostel, on the other hand, the best option is to get to the Torres de Serranos (10 minutes on foot), cross to the other side of the Turia gardens and, at the "Pont de Fusta" tram stop ", take line number 4 (blue) towards Las Arenas. The last stop of this tram leaves you right next to the beach area.
Enjoy the beach in Valencia and stay at Home Hostels Valencia!! The best option to sleep cheaply and enjoy the beach and the good sun of Valencia.