Backpack for Europe? Are you looking for a hostel in Europe? The bests hostels in Spain? Then check Home Hostels Valencia, we offer you 2 modern hostels in Valencia city and also one of the best hostels in Spain in Barcelona city center.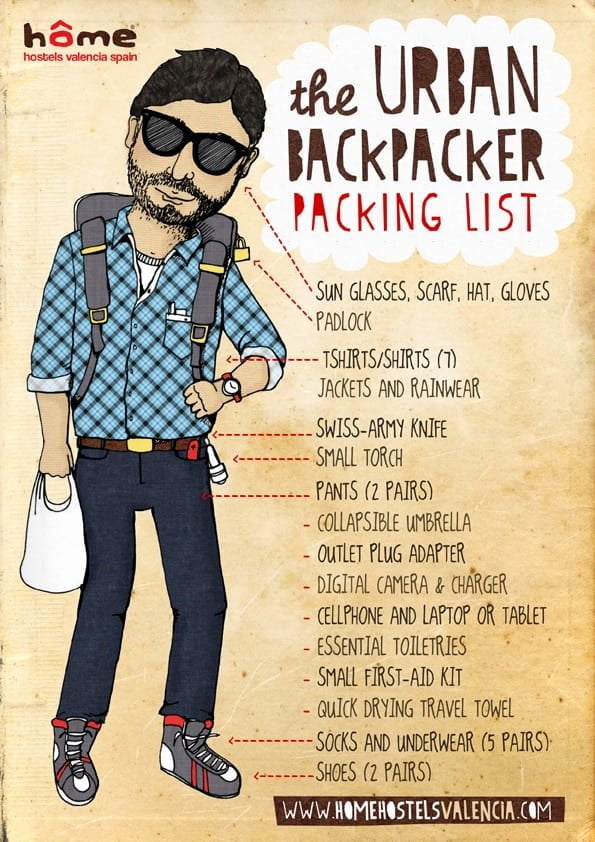 Quick Tips For Packing Light – Backpack for Europe
First, one suggestion limiting yourself to 20-22lbs worth of gear. If you exceed 22lbs (10kg) you start running the risk of exceeding the carry-on weight limit for budget airlines (Ryanair). Even if you don't plan on taking planes, I still suggest keeping your weight around 20lbs.
Toiletries for Europe Travel- Backpack for Europe
It is pretty amazing how heavy all your toiletries can become. Between the shampoo, body wash, toothpaste, and everything else it is easy to amass 5-10lbs of stuff (most of it you don't need). Honestly, most of this stuff you can buy once you arrive. Plus, I've always liked going to European grocery stores to see what they have. But if you have particular needs then you'll want to bring those things with you.
Hanging Toiletries Bag
The first thing you should get is a toiletry bag that can hang. Most hostel bathrooms are small and have no shelf space so being able to hang up your bag is incredibly convenient. I use theOgio Doppler bag
 because it is sturdy, and compact but still has a lot of room. This will save you a lot of hassle. Trust me.
Shampoo/Conditioner/Body Wash
Pour the liquid into one of those small travel-sized bottles. You can always buy more if you ever need it.
Toothpaste & Toothbrush
Don't buy a travel toothbrush—they're a waste of money and don't really even work. I just stick with a normal toothbrush and a zip-lock bag. Don't forget the dental floss while you're at it.
Shaving Stuff (Razors & Cream)
We suggest starting a few weeks before the trip so you don't have to deal with the "itchy" stage while traveling. If you're going to shave, I suggest bringing a travel-size shaving foam and some disposable razors.
Chap-Stick w/Sunscreen
Make-out sessions are no fun with sunburnt lips.
Travel Febreze/Fabric Freshener
This is good for freshening up your clothes. I like the travel-sized Febreze To Go
.
Travel Size Toilet Paper
You never know when you'll be out. This is something you really want to get.
Wet Wipes/Baby Wipes
Hopefully, you won't need them but they are good to have. I like the Cottonelle Fresh Flushable Wipes because they come individually wrapped so they're super easy to pack. 
Hand Sanitizer
Hostels aren't the cleanest places you'll ever visit…
Cologne/Perfume
Go get a few of those free cologne samples from the store or buy a small bottle. Don't bring a big bottle because it is too heavy. I like to bring a few different colognes for night/day.
Clothing Packing List- Backpack for Europe
Socks and Underwear
This is one area that many beginner travelers don't consider but experienced travelers know how important quality socks and underwear are. If you think about it, socks and underwear are worn close to your skin so they can be the difference between being comfortable or not. I highly suggest spending a little extra money to buy quality items because you'll be much more comfortable.
Socks (4-5 pairs)
High-quality socks are essential. Unfortunately, nice socks can be expensive and a lot of people don't want to spend the money on something as unsexy as socks. But, I suggest you spend a little extra money to get a few nice pairs (plus, nice socks will last for years so you can still wear them when you are home). Most experienced travelers recommend quality wool socks—you can get lightweight wool socks for the summer and they'll actually keep your feet cool and dry. Obviously, you'll want heavier-weight socks if you are traveling in the winter.  Look for socks that are:
Moisture-Wicking – Your feet will sweat a lot (especially since you'll be doing a lot of walking) so you want a sock that draws moisture away from your feet. Dry feet help eliminate odor and stop the formation of painful blisters.
Quick Drying – It is pretty easy to wash your socks in the sink so you want a pair that will dry overnight (about 6 hours).
Odor Eliminating – Some synthetic socks have special anti-bacterial features that help eliminate odor. Light-weight wool socks will also do this naturally (light-weight wool can also work well in the summer).
Avoid Cotton! – Cotton socks soak up moisture and won't dry well once wet. They will start to smell very quickly.
Underwear (5 pairs)
You can probably get away with whatever you normally wear but you really would like Exofficio Travel Underwear (here is the link for women's)
. This underwear fits well, reduces chafing, wicks sweat, and fights odor. They are also ideal because they dry quickly so you can easily wash them in the sink. Exofficios are a bit pricey but a lot of travelers say these are must-have items.
Shoes
You should only pack one pair of shoes because shoes are bulky and heavy. But it is understandable if you want to bring two pairs. You're going to be on your feet a lot while in Europe so you really want a sturdy pair of comfortable shoes for sightseeing. Guys can get away with a pair of nice leather sneakers that are comfortable during the day and look nice enough for going out at night. Some people opt for sturdier "hiking" shoes. They're usually waterproof and have an all-terrain sole.
Shirts and Tops
Button Up Shirts (4 shirts)
Long-sleeve button-up shirts are the best option when it comes to shirts. When looking for a shirt you should keep the following things in mind:
Versatile — Don't bring fancy dress shirts but a nice casual button-up will work well during the day and at night. Basically, pick something that will look fine in a church/museum, in a cafe, and at a bar.
Non-wrinkle — It is hard to keep clothes unwrinkled while traveling so non-wrinkle fabrics are a nice option.
Easy to wash — Stay away from things you can't easily wash or are high maintenance.
Dark colors — Dark colors do a better job at hiding stains. Plus, most Europeans tend to wear darker colors so you'll blend in better with the locals.
Sweaters (1 or 2)
Lightweight sweaters are nice for dressing up or for cool nights. For maximum versatility, make your sweaters and button-up shirts all look good together because you can wear them together. If you're traveling in the summer it might be wise to save space by not bringing a sweater. It is up to you.
T-shirts (3 or 4)
While I prefer wearing mostly button-up shirts, I still like the option of wearing a t-shirt. They are good for around the hostel, sleeping, wearing under other shirts, and sometimes around town. I usually pack about four solid-color shirts.
Pants (2 pairs)
Dark jeans can be dressed up, completely casual, and they match everything. You can wear jeans for months without washing them and they still won't stink. Plus, jeans are a staple in every European's wardrobe. Some hardcore travelers don't wear jeans because they are fairly heavy and take forever to dry. Also, bring a pair of well-fitting neutral/dark color chinos (light-weight cotton). These look nice if you want to dress it up a bit. Please don't wear those travel pants that zip off and turn into shorts — they are just way too dorky. I personally think a pair of jeans and a pair of chinos is all you need, but some feel more comfortable with an extra pair of pants. Shorts– Most European adults don't wear shorts. You'll probably be pegged as a tourist if you decide to wear them so just keep that in mind if you plan on bringing them. But just stay away from khaki cargo shorts because that is the stereotypical American tourist outfit. Swimwear – If you go to the beach then you'll need something to wear.
Jackets and Rainwear
Obviously, whether you take a jacket will depend on when and where you travel. Fleece Jacket – A nice fleece jacket is great because it is very lightweight and it provides a lot of warmth. I suggest getting a black fleece jacket just because it will be the most versatile. Rain Jacket – A rain jacket is one of those things that take up a lot of space and are rarely used. Therefore, I'd say this would be optional. You probably don't need one if you're only visiting cities (just bring an umbrella). If you plan on doing a lot of hiking/being in the wilderness then you might consider it. Softshell Jacket – A softshell jacket is a nice combination between a fleece and a rain jacket. They won't be quite as warm as fleece but they will be fairly waterproof.
Miscellaneous Items
Sun Glasses Scarf – Both men and women wear scarfs in the summer and winter. Hat and Gloves
Travel Accessories
Daypack A small backpack you wear while exploring the city. It should be just big enough to carry a few things (journal, souvenirs, a small umbrella/light rain jacket, those cute mini-bottles of alcohol, etc). You want to be able to pack it into your main backpack without it taking up a ton of space.
Quick Drying Travel Towel
A quick-drying towel
 is one of my favorite travel accessories. To be honest, I hate the feel of these towels, but they do an amazing job. They absorb a ton of liquid and they dry in a few hours. Normal towels take hours and hours to dry and they will really make your backpack stink. This is a must-buy. Some advice: These towels are much smaller than a normal towel. I suggest buying the large or XL size—especially if you have long hair.
Key Chain Flashlight
This is essential. A key chain flashlight is perfect for those nights when you return to your hostel dorm room late—don't piss off your roommates by turning on the lights at 3 am. The Streamlight 73001 Nano Light Miniature Keychain LED Flashlight
 is an amazing little flashlight that is super bright and tiny.
Ear Plugs & Eye Mask
There is a 300% chance that you'll encounter multiple snorers and people who turn the light on at 3 am. I highly recommend Hearos Ear Plugs
 (they're cheap and effective) and there is a range of eye masks for sleeping
.
Travel Sleep Sheet
Most hostel sheets were clean but aren't uncommon to find that some are a little less than clean… If you don't want to change it then I suggest a cotton Sleep Sheet
. Cotton can get a bit heavy and bulky so silk is another option. Not only do Silk Sleep Sacks
 feel really nice, but they are also lightweight and compressible.
Flexible Water Bottle
These bottles are lightweight and hardly take up any room in your pack. I prefer these to the common "Nalgene" bottles because these take up much less space. I like the Platypus Sports Bottle.
Sink Stopper
If you plan on ever washing your own clothes in the sink you'll need a Travel Sink Stopper
.
Travel Laundry Soap
You should also pick up some Woolite Travel Laundry Soap
or Travelon Laundry Soap Sheets
so you can hand wash laundry in a sink.
Flexible Travel Clothesline
Tie the clothesline across your bunk and hang up your wet clothes. I prefer the rubber braided clotheslines
 because they don't require any clothespins—you just stick the clothes through the braids. I also don't like the kind with suction cups because they never seem to work well.
Stain Remover
Tide To Go Stain Remover Pens
are great for getting stains out of clothes. I used this way more than I thought I would have. They even have mini ones that are great for your daypack. These individually wrapped Shout Wipes
also work really well.
Padlock
Some hostels will rent you a padlock but it is easier to bring your own. I like the kind that lets you set your own combo because it is so much easier to use—especially after a few drinks (but they are a little more expensive). Master Lock Set-Your-Own-Combination Padlock
Retractile Cable Lock
Retractable cable locks
 are amazing for locking your backpack to your bunk/luggage rack. It will deter someone from running by and grabbing your bag from your dorm or train car. I used it all the time so I am glad I brought it.
Duct Tape
You never know when you'll need to patch something or tape your snoring roommate's mouth shut. Don't take a whole roll—Wrap the tape around a pencil so it won't take up much space. They also sell travel duct tape
.
Swiss-Army Knife
MacGyver always carried his trusty swiss army knife
 (he also had a pretty bitchin' hockey haircut). You never know when you'll have to carve a baguette into a knife so you can cut some French cheese. Unfortunately, I like to always carry on all my luggage when I fly so a knife is out of the question.
Photocopies Of Important Documents
Make a few copies of your passport and other important documents just in case you lose them.
Gallon Size Zip-Lock Bags
These are good for your dirty or wet socks/underwear. Put any liquids in zip-lock bags. In fact, double bag them. I've seen many backpackers open their bags to find that their shampoo bottles had spilled all over their clothes. Also, for extra protection, put your important travel documents/passport in a plastic bag. I usually buy the Zip-Lock brand because they are of better quality than the value brand.
Money Belt
I hate money belts
but some people swear by them. I think I wore mine for about 10 minutes before I threw it into the bottom of my bag and never saw it again. Just get a skinny wallet and put it in your front pocket. I always leave my passport locked up in the hostel. It is up to you to decide if you feel like you need one.
Collapsible Umbrella
Searching for an umbrella in an unfamiliar city (especially while it's raining) isn't any fun. Trust me. I suggest buying a travel umbrella
before you leave.
Plastic Travel Utensils
Plastic travel utensils
 are essential for budget travel. They do come in really handy if you get a cheap lunch at a grocery store or you want a romantic picnic in the park with your new European "friend."
Toothbrush Cover
A toothbrush cover is something you'll want to bring along since hostel bathrooms are not always super clean. I like the Steripod Clip-on Toothbrush Sanitizer covers because they sanitize the brush while the cover is on. I'm not sure how scientific voodoo works but it does. Or you can just get a normal toothbrush cover.
Lint Roller
Lint rollers
are a must because all those dark clothes attract a lot of lint and they need to be spiffed up about every day.
Ziploc Bags
I like to bring a few quarts and gallon size Ziploc bags because they are great for holding damp or dirty clothes. Ziploc also makes a large 3 gal bag that is nice for storing an extra pair of shoes (so you don't get your clothes dirty).
Electronics Packing List
Read my guide to traveling with electronics for more in-depth advice about using electronic devices while traveling.
Travel Power Strip
Power outlets are a hot commodity in most hostels. I've stayed in hostels that only had two outlets in a room with 10 people. A travel power strip can be a lifesaver when you need to charge/power all your devices. Plus, you'll make a lot of friends when other people can plug into your power strip. This Monster 4 Outlet Travel Power Strip
is my favorite (there is also a 6 outlet version).
Digital Camera w/ Charger
You'll obviously want a camera when you travel. Check out my guide to picking the best digital camera for travel. Don't forget the extras…
Extra Memory Cards: Make sure you have plenty of memory cards/high-capacity cards. I made this mistake on my first trip to Europe, and I had to always find a computer so I could transfer pictures off my card to free-up space.
Extra Battery: Buy an extra battery or two from Amazon. I bought a super cheap 3rd party battery from some seller in China and it was extremely helpful on my trip.
iPhone/iPad/iPod
You can use these to help plan your trip, find directions, listen to music, and a ton more. I think these devices are going to make travel much more enjoyable.
Laptop or iPad
Laptops are becoming more popular in the backpacking world. To me, they seem like a huge hassle and people end up spending a lot of time on them (although I understand the draw of having easy access to a computer). A netbook
wouldn't be too bad, but I would buy an iPad
if I had the money.
Cell Phone
Don't make calls with your home cell phone because it either won't work or it will cost a fortune. If your phone does work, you'll need to buy a European SIM card (you can get one all over Europe).
Outlet Plug Adapter
Plug adapters
 change the plug on your electronics to fit the outlet of the country (the UK and Europe are different plugs). Don't confuse these with "voltage adapters" [Read the savvy guide for traveling with electronics to find out the difference].
First-Aid Packing List- Backpack for Europe
I would pack minimal first-aid supplies because you can get everything easily in Europe. Just get the very basics.
Prescription Drugs
The prescription needs to be on the bottle/box because some countries will check your medicine when you pass immigration. I've never been asked to present any medicine but it is possible. Also, make sure you have enough medicine to cover your entire trip. I'm not really sure of the rules about buying prescription medication overseas but I'm sure it is a hassle.
Pain Medicine
In many European counties, you can only get medicine (even basic stuff like Tylenol) from a pharmacy. This isn't really a problem but some pharmacies have limited open hours. Might as well have a few pills on you before you arrive.
Band-Aids
For your widdle boo-boos.
Motion Sickness Pills
Don't rock the boat—seriously, I'm going to lose it.
Anti-Bacteria Travelers Diarrhea Medicine
You'll need to get the diarrhea medicine from your doctor but it works a lot better than Pepto. Most likely you won't need it in Europe but…
Pepto Tablets
Help settle your stomach. The Pepto-Bismol caplets
are much more convenient to carry in your bag than the liquid.
Small Pack of Tissues
These are helpful when you look at your credit card bill.
Do a Test Run Before You Go
Load up your bag and see how heavy it is. Walk around with it for 20 minutes. You'll be surprised how heavy all your stuff can be. You might consider repacking if your backpack weighs too much. I would try to keep your total bag weight around 20lbs. I've seen people with packs weighing over 40lbs and they quickly see how terrible having a heavy pack really is. Backpack for Europe